Lucotte and toy soldiers


The labels of the Lucotte boxes mention that the Maison Lucotte – Au plat d'Etain – was established at 37 quater rue des Saints pères.
The Maison Lucotte, or Au Plat d'Etain, named after the store, was on the first floor, with the factory in the basement. The first Lucotte labels also indicate that "the great specialty (was) the production of lead soldiers and subjects produced since 1840". The label also states that Lucotte manufactured pewter tableware.
One hypothesis is that Lucotte began its production of flat and small soldiers in 1840: a few years later, Lucotte saw the 54mm that were being sold by its neighbor, almost certainly CBG, and perhaps Britains.

An expert manufacturer of quality lead and tin objects, as well as flat soldiers and small subjects, the company decided that its know-how would allow it to produce with a higher quality than that of Sandre's suppliers, and started producing its own 55mm in 1903.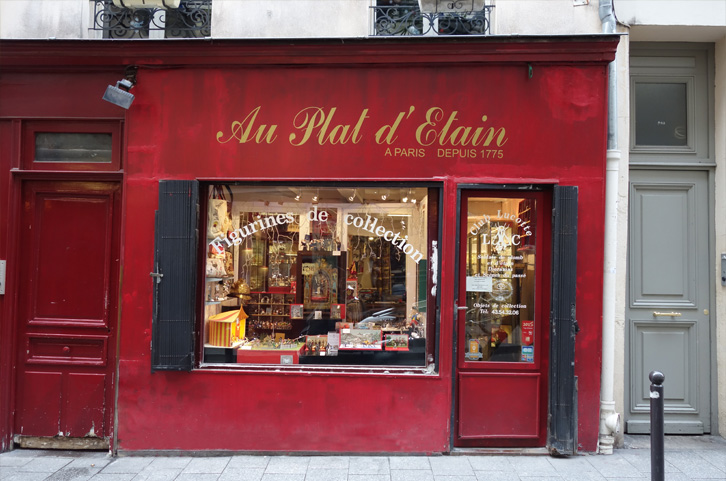 The first Lucotte 55mm seem to have been massive First Empire pedestrians and riders. The first version pedestrians were produced in three basic positions:
1) separated legs, flat feet

2) legs attached

3) a rare kneeling position, which probably did not please because it is easily overturned.
With the addition of different arms, the three positions could give many different figures. Thus, the "separated legs" position, very versatile, could, thanks to a judicious choice of arms, represent :
1) A subject at the parade

a) the weapon on the shoulder

b) to the present weapon
2) A subject to the assault, bayonet to the barrel

3) A subject to fire

4) A subject reloading or bayoneting the barrel

5) A musician. The "legs tied" position also included several choices of arms.
Most likely because the initial split-legged body had a fairly stiff appearance, and the initial heads were slightly small, Lucotte quickly made larger heads and a version of the "split-legged" pedestrian with a softer attitude that could still "be used for soldiers in fire and in motion. Different bodies were also added, for unusual regiments such as some foreign units, and for a different marching position, usually used for Marines of the Guard.
The first riders were produced with a basic rider, mounted on a horse:
1) to the "fixed" one

2) at pace

3) galloping, with reins made of "fil iron".
These wire reins were quickly replaced by more realistic cast lead or tin reins, ingeniously attached to the horse's mouth by a casting boss. This method proved to be fragile and perhaps difficult to mold, so after a few years the molded reins were, in a more durable but less aesthetic way, fixed by a small wire passing through the horse's mouth.
This synthesis of the history of Maison Lucotte is drawn from
the remarkable work of Mr. JOSEY Lenoir