Early 20th Century: Lucotte and the First World War


In 1913, the Lucotte/Courtes family had sold the company to Madame M Margat who considerably expanded the range by producing a complete series of all WWI veterans in three sizes – the first size of 32mm for pedestrians and 40 for horsemen, the second of 40 and 50mm, and the third of 55 and 75mm. Two new galloping horses were added at this time, as well as the "Margat horse". This Margat horse and most of the subjects of the WWI were probably an attempt to reduce production costs by reducing the number of elements.
This more basic horse probably did not meet with success because it is also rare. According to the catalogs of the time, it seems that the figurines of the Great War were almost 40% cheaper than those of the Empire. It seems that Margat thought that buyers would be more interested in WWI subjects than Empire ones, her post-war catalog concentrating on them. The two smaller formats were also both dedicated to the First World War and not to the Empire.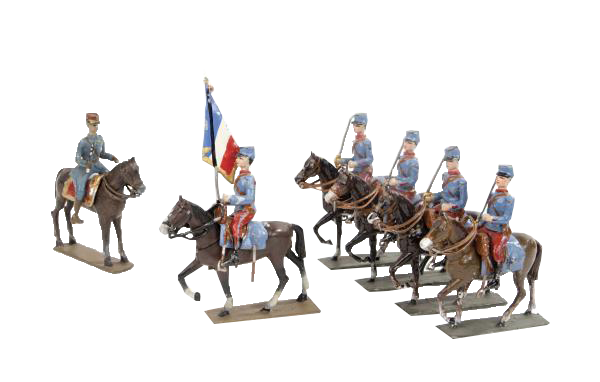 Nevertheless, people wishing to forget the Great War, seeking escape and fiction, collectors preferred the colorful Empire figurines in comparison to the duller reminders of the tragedy that had been the Great War. As a result, the pieces produced in the post-war period were mainly "Empire".
This synthesis of the history of Maison Lucotte is drawn from
the remarkable work of Mr. JOSEY Lenoir